Reports Q2 2020 results on Tuesday, July 28, after the close
Revenue expectation: $1.85B
EPS expectation: $0.16
It is, perhaps, one of the most exciting times for Advanced Micro Devices (NASDAQ:AMD) investors. The Santa Clara, California-based chipmaker is seeing powerful momentum as demand for its products increases. This occurs at a time when the path to growth at one of AMD's largest competitors, Intel (NASDAQ:INTC), is faltering.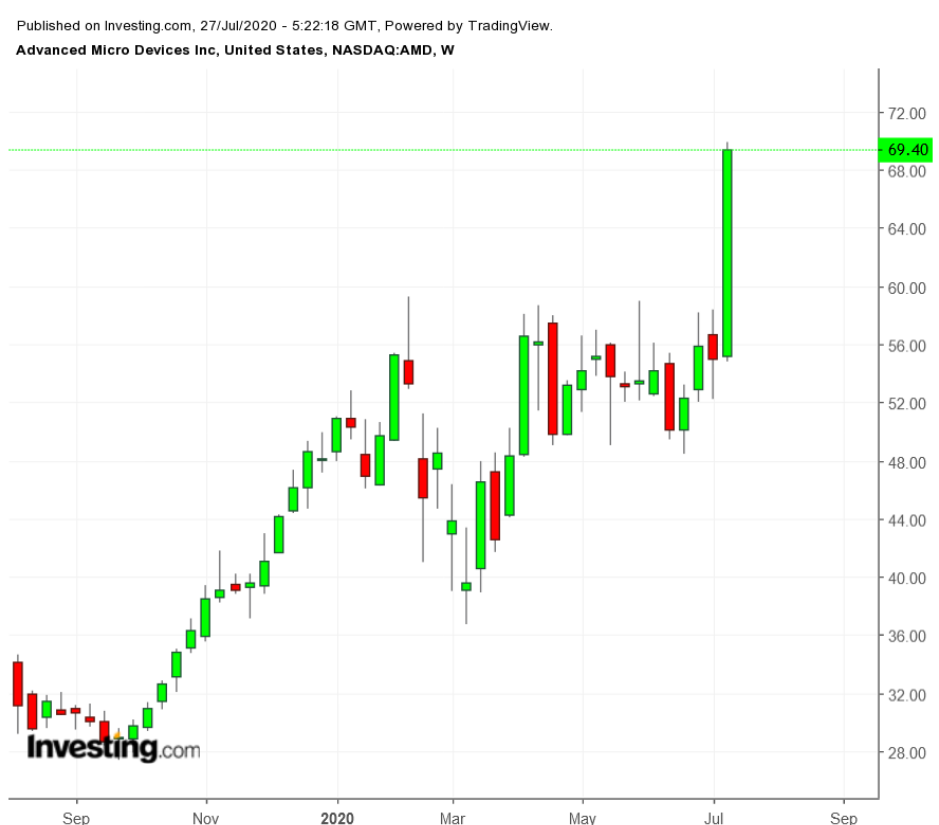 AMD Weekly TTM
Shares of AMD surged on Friday, up 17% after Intel announced it is considering outsourcing chip manufacturing, after years of delays that have hindered it from bringing its next generation products to the market. AMD stock closed at $69.40.
These multiple setbacks faced by the world's largest chipmaker have helped rivals, including AMD, catch up on performance and capture the largest share of the market. After Friday's jump, AMD stock is up more than 50% this year, while Intel was trading 15% lower.
Intel's current best technology, known as 10 nanometer in the industry, was scheduled to appear in 2017 and is only now making it into high-volume production. And when Intel reported results on Thursday, it said the next iteration–7 nanometer–would be delayed by a year.
AMD, on the other hand, is benefiting from persistently strong demand for personal computers, data centers and gaming consoles. AMD is the second-largest maker of chips used in computer graphics cards.
To get its growth cycle going, AMD also introduced a large array of new products last year, targeting its biggest competitor, Intel.
With these releases, the chipmaker showed it was in prime position to snatch the competitive edge from Intel. As well, it indicated it had the clout to win the biggest customers in the cloud computing market–companies that previously had little option but to rely on Intel's expensive products.
Microsoft's Xbox Series X and Sony's PlayStation 5–each will contain a powerful AMD processor. Demand for such products is likely to expand as the holiday season approaches, along with the COVID-19 pandemic forcing people to continue to remain at home.
While the pandemic has complicated AMD's production cycle after the virus shut down much of the personal computer supply chain in Q1, the company still expects annual sales growth of about 25%.
"While demand indicators across commercial, education and data center infrastructure markets are strong, we expect some softness in consumer demand in the second half of the year depending on how overall macroeconomic conditions evolve," Chief Executive Officer Lisa Su said on a conference call in April.
AMD has said it's targeting double-digit market share in servers by the middle of this year, after dropping to less than 1% before introducing new products in 2017. Server computers are the backbone of corporate networks and the giant data centers that run the internet.
Bottom Line
AMD shares look a bit expensive after its powerful rally in 2020. To keep this momentum going, the company has to show it's leading the game and well-positioned to take advantage of Intel weakness. Tomorrow's earnings report could very well support this bull case.