Suddenly, it's a totally different world for the high-flying semiconductor stocks. In just a week, the bull case for these chip producers has weakened significantly as the global economy comes under pressure from the effects of the coronavirus outbreak.
After rallying strongly over the past year, these chipmakers took a hard beating this week as investors rushed to offload their risky assets on concerns about the potential impact of the illness on global economic growth.
The Philadelphia Semiconductor Index, which includes some of the world's largest chipmakers, has shed more than 11% in the past five trading days in a widespread sell-off.
While analysts and economists are still struggling to understand the extent of damage to the global economy from this fast spreading deadly virus, investors should be ready to see a steep correction in this segment of the market, where investors have very strong, built-in expectations.
In this uncertain situation, it's also important to recognize which chip stocks are more exposed to this spell of weakness. Advanced Micro Devices (NASDAQ:AMD), the top performer of 2019, is at the head of this list, in our view.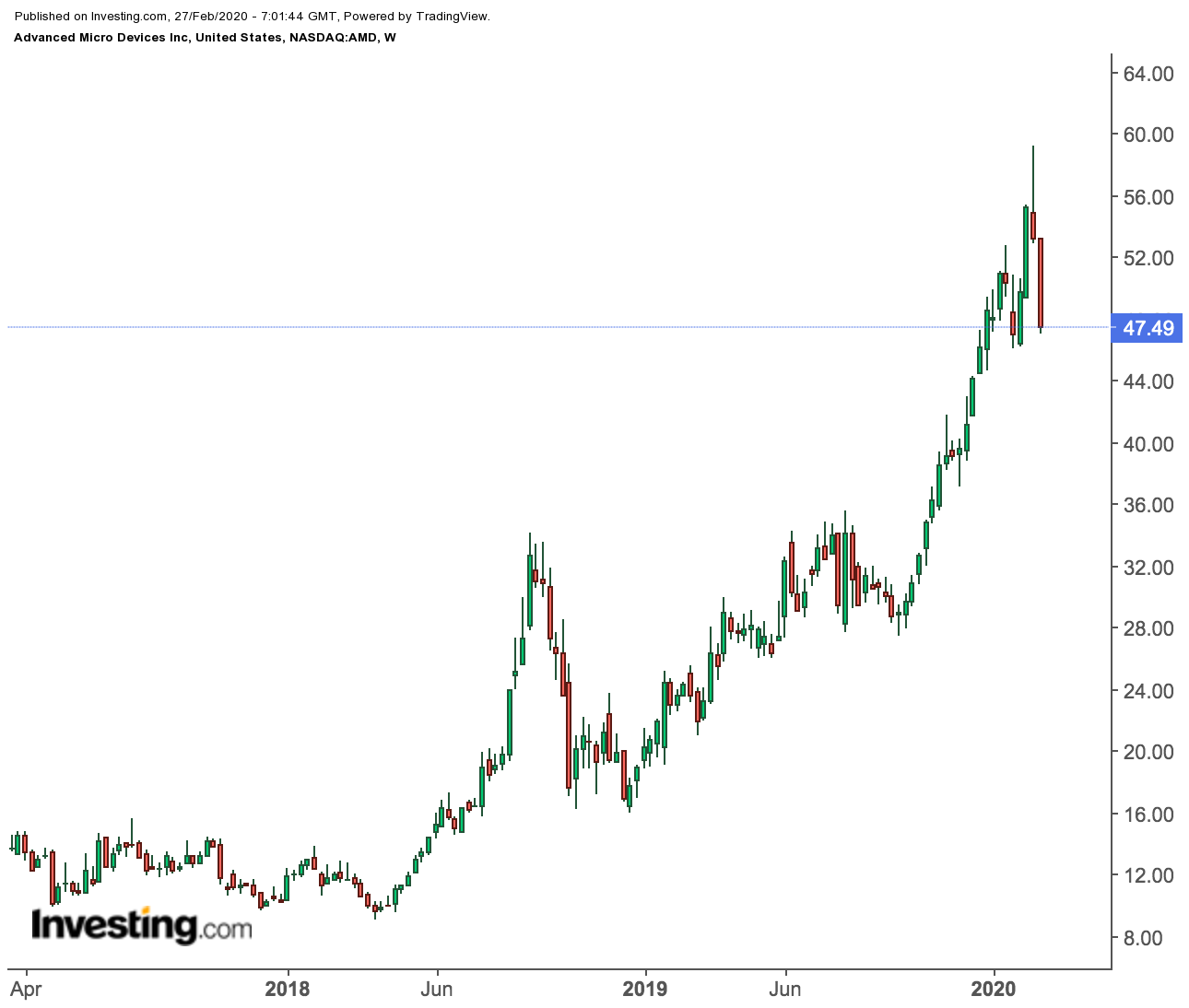 AMD Weekly Price Chart
After returning about 150%, AMD's shares were the biggest percentage gainer among the stocks listed in the S&P 500 index last year. But now, having plunged close to 20% from the record high of $59.27 reached on Feb. 19, the stock is already in a bear market.
Even before it was hit by the coronavirus-triggered sell-off, AMD was showing some signs of peaking. Last month, the Santa Clara, California-based company gave a lackluster forecast for the current quarter that disappointed investors.
Revenue in the first three months of the year will be about $1.80 billion, plus or minus $50 million, the company said, falling short of the average analyst estimate of $1.87 billion, according to data compiled by Bloomberg.
Another reason AMD is more susceptible to a sustained weakness in equity markets is the company's premium valuation. At 30 times forward earnings, AMD is among the most richly valued chip stocks, fetching more than twice the semiconductor group's average multiple.
Michael Binger, president of Gradient Investments, told CNBC last week that AMD stock was "very rich" and the company's exposure to the PC market makes it vulnerable. Microsoft (NASDAQ:MSFT) yesterday cut its quarterly outlook, citing the coronavirus epidemic, which is slowing production of computers and crimping sales of an array of consumer services and electronics.
In a statement , the company said it doesn't expect to meet earlier guidance for fiscal third-quarter revenue in the Windows personal-computer software and Surface device business because the supply chain is returning to normal at a slower pace than expected. That warning from the world's largest software company is enough to show that things could get quite ugly for hardware companies as well.
AMD has benefited from persistently strong demand for personal computers as companies upgraded to a new version of Microsoft Windows operating system. AMD is the second-largest maker of chips used in computer graphics cards.
To get its growth cycle going, AMD released a large array of new products last year, targeting its biggest rival Intel (NASDAQ:INTC), which is struggling to roll out its latest and most advanced chips.
In a series of new product releases, the company showed that it is in a position to gain a competitive edge over Intel and could win the biggest customers in the cloud computing market — who previously had little option but to rely on Intel's expensive products.
"Intel has a lot of clout still in this market and they can stay price cutting. They can bring better products to market, that's what I worry about the most. … Would I buy it here today? No, I wouldn't, and I'd wait for that pullback." Binger told the network.
Bottom Line
As we had warned in our Jan. 9 article, AMD stock was susceptible to some correction after reaching the highest level nearly in two decades. Now that this pullback is underway, investors shouldn't rush to buy the stock yet.
But, once the dust is settled, AMD will be a good pick for long-term investors as the chipmaker slowly expands its market share. In addition, it's well positioned to take advantage of lapses by Intel.